Dental Crowns and Dental Bridges To Fix Damaged Teeth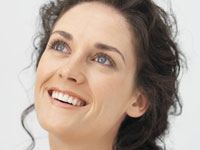 People of a certain age sometimes find themselves in need of dental care involving dental crowns instead of a filling, or dental bridges to replace missing teeth. Understandably, in light of the present economy, many patients think first of the expense. But the fact remains that postponed care costs more in the long run, both financially and physically.
In the case of broken teeth, extensive decay or an old filling, a crown is intended to hold the remaining tooth structure together. After a root canal, enamel becomes especially brittle - another candidate for a crown.
A badly damaged tooth, left untreated, causes changes in the mouth that disrupt how the teeth work, chewing patterns, and jaw function. Normal eating habits may be inhibited. Tenderness forces the bite away from one side of the mouth and exerts undue pressure elsewhere. Why not just extract this troublesome tooth?
A missing tooth eventually spells oral disaster, meaning permanent changes to your bite. Because the mouth is dynamic, teeth on either side of an empty space will shift. The teeth next to them move, too. With all this movement, periodontal disease could invade soft tissues. Jaw misalignment, and the pain that goes with it, is likely. So tooth restoration to bolster neighboring teeth and keep the "architecture" of the mouth in good shape is the best course of treatment.
After fillings, crown and bridge work is our first line of defense against oral deterioration. This kind of dentistry brings a lot of satisfaction to both patient and dentist. A transformation happens. With the mouth functioning again, people feel better about themselves.
So call your cosmetic dentist today to find out how you can restore your mouth to total dental health. You'll look and feel better.
A Beautiful Smile and Your Cosmetic Dentist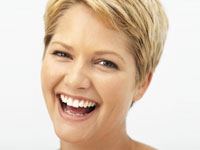 Everyone knows Mona Lisa's smile, but who knows what she meant by it?
Why do we smile?
Psychologists tell us that, in our ancient past, a smile was a gesture of appeasement. They also believe that, to modern man, a smile signals many different messages - recognition, sympathy, apology, lessening of tension, confusion, embarrassment, doubt, joy, delight. A smile, social observers agree, is a mask behind which we can hide our true feelings.
This mask is a complex gesture. First the corners of the lips curl upward. Then, as the smile grows, front teeth are exposed. In our culture we consider people with glistening white teeth and a beautiful smile to be "good" people. Bad teeth, on the other hand, tend to distort the smile "message" because, curiously, we subconsciously judge others by their teeth.
The Eyes Don't Have It - The Teeth Do!
Some people believe that teeth are a more important element of beauty than the eyes.
Have you noticed that, in the movies and on TV, the "good guys" never have broken teeth or a missing tooth? The "bad guys" almost always do.
What Does Cosmetic Dentistry Have to Do With Facial Beauty? Everything!
Nearly all dentistry affects our appearance, and our appearance affects our sense of personal worth. Among the many things that a cosmetic dentist can do to give you a beautiful smile are:
Teeth bleaching to remove stains caused by plaque, coffee, cigarettes
Teeth Whitening
Covering worn teeth (ground down by age or deformity or chipping) through application of dental crowns, dental bridges, or other cosmetic dental techniques
Teeth Straightening (orthodontics) for adults as well as children, to improve appearance and to provide better chewing surfaces
Shortening a long face, realigning a protruding jaw, correcting a cleft lip through dental surgery
So … cosmetic dentists are scientists, clinicians, artists and image-makers!