Porcelain Veneers: a Popular Cosmetic Dentistry Option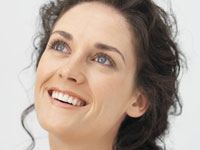 Modern cosmetic dentistry offers a wide selection of options for today's consumers for enhancing their smiles. As an alternative to crowns, chipped or stained teeth can be effectively restored with porcelain dental veneers -- ultra-thin, custom-designed ceramic shells bonded to the front teeth.
A porcelain dental veneers can change a tooth's color, size or shape. They're ideal for a number of tooth restoration purposes:
to mask severely stained teeth, such as from antibiotics;
those with discolored fillings on front teeth;
to repair crooked, chipped teeth;
or for those with poor spacing or worn enamel.
Porcelain dental veneers have a good longevity record, lasting many years when properly applied.
About the Porcelain Dental Veneers Procedure
Porcelain dental veneers treatment requires a four-step process:
First, patients consult with the cosmetic dentist regarding the specific nature of the desired changes. It is possible that you and your dentist may want to view the expected final result. This can be accomplished by performing a "wax up" of your teeth on some impressions (molds) of your mouth. You may also view the expected result via a computer enhancement program.
During the next appointment, your teeth will be prepared for the porcelain dental veneers. They'll be lightly buffed to remove about 0.5 mm from the tooth's surface (which may require local anesthesia).
Next, an impression will be made of your teeth for customizing the porcelain dental veneers. This will be sent to a dental lab and used for creating a perfect fit. A temporary dental veneer might be applied at this time, if appearance is of special concern.
When the porcelain dental veneers are ready, the dentist will carefully attach them, adjusting the shade if needed. Once the dental veneers are cemented, color alteration is no longer possible. Dental cement is applied between the porcelain dental veneers and tooth. A "light" touch finalizes the process with a beam of light activating the hardening of the cement.
Once teeth have been veneered, they will require periodic treatment and regular visits to the dentist. The result is a beautiful and long lasting smile you will love!
By Brian J. Gray, DDS, MAGD, FICO
Cosmetic Dental Care: Discover Your Beautiful New Smile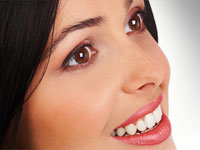 Choice is a wonderful thing. It can mean the opportunity to look a dozen years younger than your actual age. Which, in this youth-obsessed culture, gives you extra advantages, whether you're thirty-something or a grandparent.
These choices include your teeth. Not just movie stars, but adults in all walks of life, are opting for cosmetic dental care that restore youthful vitality to their skin and faces. You might be surprised by the role fresh "young" teeth play in creating that overall first impression.
Your cosmetic dentist can bring you up to date on the incredible and youth-restoring dental options, like dental crowns and veneers, that are available to you. Options available at a fraction of the cost of risky and invasive surgery such as, say, a face-lift.
Whichever restorative dentistry procedure you agree to, or decline, is your personal choice. For example, suppose you're missing teeth. Maybe the gap doesn't show, and you've lived with it for awhile. Replacement with dental crowns or dental bridges might be recommended. The consequences of living with missing teeth are important, but the choice to replace that missing tooth and get one step closer to a beautiful smile is yours.
Just the same, it's your mouth and your decision. Whenever you have questions about your care, ask your local dentist and together you can do what's right for you.