Cosmetic Dentistry: What Is a Prosthodontist?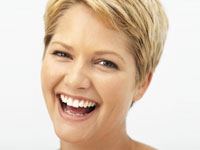 A general dentist attends four years of dental school after college and receives training in all areas of dentistry, including fillings, crowns, cleaning teeth, root canals, extracting teeth and much more. At the completion of this training period, a dentist can either go out and open a dental practice or continue on with their education and specialize in any of the above-mentioned areas. For example, an orthodontist is a specialist in braces.
A prosthodontist is a specialist in the restoration and replacement of broken and missing teeth. Their additional training lasts three years. During that time, they are taught in greater detail about both removable and fixed prosthodontics.
Removable Prosthodontics includes replacing missing teeth with appliances that the patients themselves can take in and out of their mouth, such as dentures and partial dentures.
Fixed prosthodontics includes replacing missing and/or broken teeth with restorations that the patient cannot take in and out, such as veneers, dental crowns, bridges and implants.
The most important part of the training is how to restore teeth in a variety of different situations so that the end result is the most esthetic and predictable outcome possible. The types of cases seen in cosmetic dentistry are often more comprehensive and complex in nature. They often involve the combination of crowns and implants or can even be as involved as placing crowns on every tooth in a person's mouth.
To do this, prosthodontists are trained to evaluate all the different aspects of your teeth and mouth. They observe and treat your mouth with regards to:
esthetics (the overall shape, position, and appearance of your teeth)
function (how your teeth and jaw joints work together so that you can chew)
structure (the integrity of the individual teeth)
biology (the health of the gum tissue around the teeth).
By evaluating these different areas, the prosthodontist can treat one area of your mouth, but also will determine how other areas will impact the treatment. In essence, a prosthodontist looks at your mouth as a whole, even though there may be only one tooth requiring treatment.
Often times, especially in cases involving multiple and/or missing teeth, the involvement of other specialists and cosmetic dentistry will be needed to help with treatment. These specialists include orthodontists (to straighten or move teeth using braces), periodontists (for gum surgeries and placement of implants), endodontists (root canals) and oral surgeons (for the extraction of teeth and placement of implants). In essence, the prosthodontist acts as the coordinator to help sequence the proper treatment before the final restorations are placed. Often times, treatment can take longer to complete, especially if other specialists are involved. In taking a complete approach, you can be assured that you will end up with the most esthetic and reliable treatment, whether it involves one or all of your teeth.
By Greggory Kinzer, DDS, MSD
Dental Crowns and Dental Bridges To Fix Damaged Teeth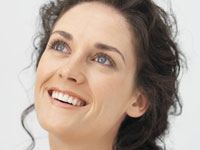 People of a certain age sometimes find themselves in need of dental care involving dental crowns instead of a filling, or dental bridges to replace missing teeth. Understandably, in light of the present economy, many patients think first of the expense. But the fact remains that postponed care costs more in the long run, both financially and physically.
In the case of broken teeth, extensive decay or an old filling, a crown is intended to hold the remaining tooth structure together. After a root canal, enamel becomes especially brittle - another candidate for a crown.
A badly damaged tooth, left untreated, causes changes in the mouth that disrupt how the teeth work, chewing patterns, and jaw function. Normal eating habits may be inhibited. Tenderness forces the bite away from one side of the mouth and exerts undue pressure elsewhere. Why not just extract this troublesome tooth?
A missing tooth eventually spells oral disaster, meaning permanent changes to your bite. Because the mouth is dynamic, teeth on either side of an empty space will shift. The teeth next to them move, too. With all this movement, periodontal disease could invade soft tissues. Jaw misalignment, and the pain that goes with it, is likely. So tooth restoration to bolster neighboring teeth and keep the "architecture" of the mouth in good shape is the best course of treatment.
After fillings, crown and bridge work is our first line of defense against oral deterioration. This kind of dentistry brings a lot of satisfaction to both patient and dentist. A transformation happens. With the mouth functioning again, people feel better about themselves.
So call your cosmetic dentist today to find out how you can restore your mouth to total dental health. You'll look and feel better.